The Best 3D Modelling Software Options For 3D Printing
A lot of people who are getting into 3D printing do a ton of research into which 3D printer is best. We've even created a list of the best 3d printers for beginners. However, one of the main aspects of 3D printing that often gets overlooked is the 3D modelling software you're going to use.
You can always go onto various different sites such as Thingiverse and download files that are ready to print, but this isn't as rewarding as creating it yourself. If you're using a 3D printer to create custom designs, having great 3D modelling software definitely makes the job easier and helps you in aspects you're not great at.
We have compiled a list of the best 3D modelling software for 3D printing. We've segmented the easiest to use and our favourite software packages.
Simplify 3D - Our Favourite
At Technology Outlet, we currently only sell Simplify 3D as we believe this is the best 3D modelling software for both beginners and advanced users. It is very quick and easy to set up while boasting very high-performance when it comes to slicing and modelling. It has a range of features that not all software has, including customizable support structures, an animated preview mode, a fully optimised dual-extrusion mode and even advanced multi-part printing.
The price is great value for money, considering all of the advanced features and performance it guarantees. You only have to pay a one-off amount of £148.99. Compared to other software, this can seem quite expensive, but this is a one-off payment. Other software requires monthly subscriptions.
Vectary - Free Plan Available, Perfect For Beginners
Vectary is a 3D modelling software that offers a free to use plan and is accessed in your website browser. It is very easy to use, it has a lot of features that will help you create 3D models without breaking a sweat. You can even collaborate with people on projects, allowing you to work with friends or fellow designers.  The free plan doesn't come with all the bells and whistles, however, that would be reserved for their £40+ per month plan.
Vectary is definitely a great software to use, thanks to it's very easy to use interface and simple techniques, it makes that once daunting task, a lot more enjoyable and manageable.
SelfCAD - Browser Based with Great features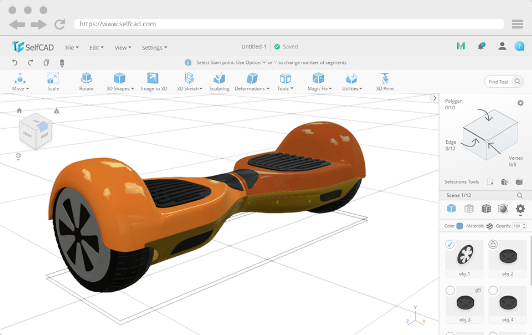 SelfCAD is fairly easy to manage and is a great application for 3D modelling and for 3D print. The SelfCAD features are high-end, coupled with its ease of use, this is perfect for more advanced people in the 3D Printing industry. However, a beginner could get the hang of it after a spell using it but it features lean more towards the advanced side. It is very good at transforming 2D pictures or low-res 3D renders into a high-end 3D model. It is also great for 3D drawing.
The main advantage of the program is that it works in the browser and is fast and lightweight so it doesn't impact performance. It is also actively updated to fix bugs and more features are added on a regular basis. The pricing plans are either $14.99 a month or $139.99 a year. This can be seen as expensive if you're planning for the long-term.
That concludes our list of the best 3d modelling software for 3D printing. In a saturated market of software, we would definitely recommend Simplify3D. It's great for both beginners and advanced users. It's certainly our favourite software to use and we hope it will become yours too.
What is your favourite 3d modelling software? Let us know in the comments.
---