Z NYLON is a versatile and strong 3D printing filament resistant to high temperatures and various chemicals. It can be post processed with tools meant for machining metals. Z NYLON is hard to break and easy to paint as it can be coloured with commonly used, acid based clothing dyes.
The filament quickly absorbs moisture and should be stored in a water proof bag with a moisture absorber. As all nylon based materials, Z NYLON has a relatively high shrinkage so using it is not advisable in 3D printing large geometric shapes with steep slopes. To reduce the shrinkage, it is recommended to work with HEPA Cover attached on the M Series Plus 3D printers.
Applications
Tools
Hinges
Buckles
Gears
Functional prototypes
Mechanical parts
Below a fully functional vise 3D printed with Z NYLON.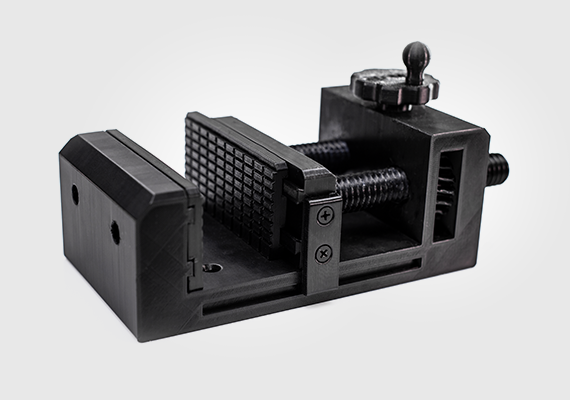 Durability Z NYLON is very strong. It can be post processed with tools meant for machining metal.
Chemical resistance Z NYLON is resistant to a wide range of chemicals including light alkalis and acids.
Ease of dyeing Models 3D printed with Z NYLON can be easily coloured with dyes commonly used for clothing.
Delivery Information & World Shipping Rates
Delivery is with DPD, UPS, FedEx, or DHL for high value/large orders. Orders that are lower in value or lightweight may be shipped with Royal Mail 24/48HR. To Qualify for Free Next Business Day Delivery you must spend over £60 (Ex VAT).
Next Business day delivery explained:
If you order before 2pm (Mon-Fri) your order will be shipped out with any of the above couriers. If you order after 2pm on a Weekday (Mon-Thur) it will be despatched the next business day. Orders placed after 2pm on a Friday will be despatched the following Monday (Excluding bank holidays). DPD Next Business Day Delivery £8.95 unless your order qualifies for free delivery. This service is applicable to all mainland UK customers. Northern Ireland, Channel Islands can expect it to take 24-72hrs minimum.
We currently don't offer Weekend delivery services with any of our couriers. In the past, when we offered these services, we found them to be extremely unreliable and it resulted in a lot of disappointed customers, therefore we took the decision to cease the offering.
If you are unsure about delivery, please email sales@technologyoutlet.co.uk and we will help you out!
 EUROPEAN DELIVERY COSTS
 
3 kg and under

 

up to 31.5kg
Transit
Austria
£14.30
£18.53
3 days

Belgium

£13.20
£15.22
2-3 days
Bulgaria
£21.42
£30.96
4-7 days
Canary Islands
£89.60
£89.60
3-5 days
Croatia
£15.44
£27.66
4-6 days
Czech Republic
£12.86
£16.76
3-4 days
Denmark
£14.67
£18.56
3 days
Estonia
£16.38
£22.80
4-6 days
Finland
£20.96
£25.32

4-6 days

France
£14.58
£17
2-3 days
Germany
£12.82
£15.87
2-3 days
Greece
£23.28
£36.60
4-7 days
Hungary
£12.80
£18.45
4-6 days
 
Italy
£17.22
£22.02
3-4 days
Latvia
£15.48
£20.24
4-7 days
Lithuania
£14.02
£18.84
4-7 days
Luxembourg
£13.96
£16.80
2-3 days
Netherlands
£13.20
£15.09
2-3 days
Norway*
£48.60
£61.00
4-7 days
Poland
£12.09
£17.13
4-6 days
Portugal
£14.91
£24.08
4-6 days
Romania
£21.29
£30.08
2 days
Slovakia

 

£14.33
£20.46
3-4 days
Slovenia
£14.46
£19.82
4-6 days
Spain
£15.09
£20.39
3-4 days
Sweden
£16.18
£20.45
4-6 days

Switzerland*

£44.33
£48.42
3 days
Please note: Delivery charges may be subject to change
Payment & Security
Your payment information is processed securely. We do not store credit card details nor have access to your credit card information.