Roll over image to zoom in
PrimaSELECT Flex is a new type of Thermoplastic Co-Polyester (TPC) with very rubber - like characteristics. This material is perfect when you need a strong, but still flexible filament. Our filament has a shore hardness of 45, which means that it´s rigid but still pliable.
PrimaSELECT Flex can create object that are stretchable and can survive punishment that no ABS or PLA could tolerate. Another great thing with PrimaSELECT Flex is it´s great UV and chemical resistance. The material can be bend and stretched but will always go back to its original shape. The one application that most people know this material from is mobile phone cases, so it´s great for usage where you need the material to fit the model, not the other way around.
PrimaSELECT Flex is best used with a heated bed which should be set to 90 - 100˚C it could also be used without heated bed depending on the type and size of your print.
A print speed of 10-30 mm/sec are to prefer due to the materials flexibility.
PrimaSELECT Flex sticks on BuildTak or glass plate coated with adhesive spray or glue stick.
PrimaSELECT Flex is reeled on a transparent spool with 500 g of high quality filament. It´s packed in a sturdy box and packed with silica gel to avoid moister.
PrimaSELECT Flex are available in diameter sizes of 1.75 mm and 2.85 mm.
Our state of the art factory is equipped with the latest in laser measuring technology to ensure that you will receive a spool of filament with a very tight diameter and roundness tolerance. This in turn makes for a filament that is compatible with most common printers on the market today.
Why should I choose PrimaSELECT Flex?
High flexibility with a shore hardness of 45D
Good resistance to chemicals
High UV resistance
Good heat resistance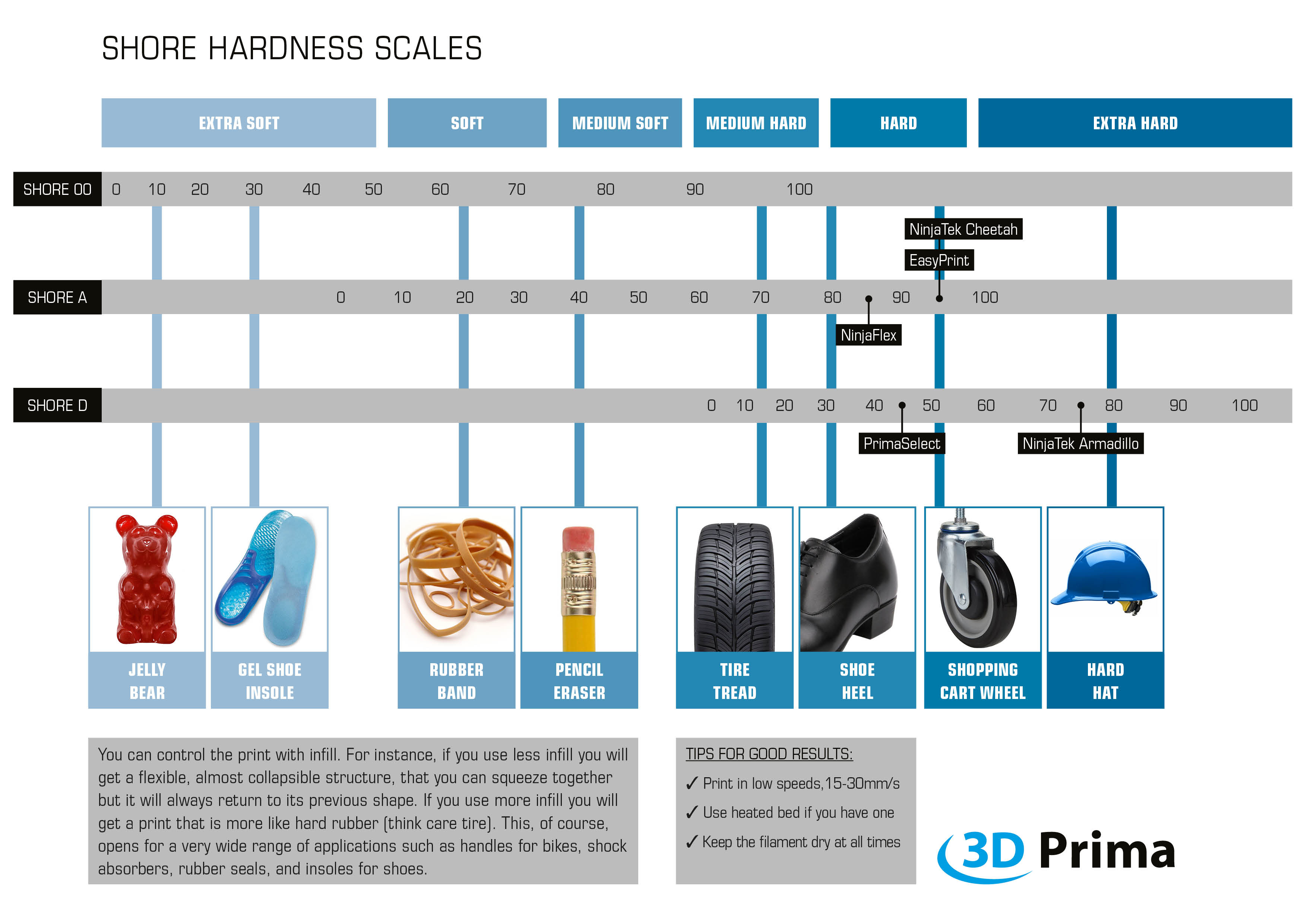 Delivery Information & World Shipping Rates
Delivery is with DPD, UPS, FedEx, or DHL for high value/large orders. Orders that are lower in value or lightweight may be shipped with Royal Mail 24/48HR. To Qualify for Free Next Business Day Delivery you must spend over £60 (Ex VAT).
Next Business day delivery explained:
If you order before 2pm (Mon-Fri) your order will be shipped out with any of the above couriers. If you order after 2pm on a Weekday (Mon-Thur) it will be despatched the next business day. Orders placed after 2pm on a Friday will be despatched the following Monday (Excluding bank holidays). DPD Next Business Day Delivery £8.95 unless your order qualifies for free delivery. This service is applicable to all mainland UK customers. Northern Ireland, Channel Islands can expect it to take 24-72hrs minimum.
We currently don't offer Weekend delivery services with any of our couriers. In the past, when we offered these services, we found them to be extremely unreliable and it resulted in a lot of disappointed customers, therefore we took the decision to cease the offering.
If you are unsure about delivery, please email sales@technologyoutlet.co.uk and we will help you out!
 EUROPEAN DELIVERY COSTS
 
3 kg and under

 

up to 31.5kg
Transit
Austria
£14.30
£18.53
3 days

Belgium

£13.20
£15.22
2-3 days
Bulgaria
£21.42
£30.96
4-7 days
Canary Islands
£89.60
£89.60
3-5 days
Croatia
£15.44
£27.66
4-6 days
Czech Republic
£12.86
£16.76
3-4 days
Denmark
£14.67
£18.56
3 days
Estonia
£16.38
£22.80
4-6 days
Finland
£20.96
£25.32

4-6 days

France
£14.58
£17
2-3 days
Germany
£12.82
£15.87
2-3 days
Greece
£23.28
£36.60
4-7 days
Hungary
£12.80
£18.45
4-6 days
 
Italy
£17.22
£22.02
3-4 days
Latvia
£15.48
£20.24
4-7 days
Lithuania
£14.02
£18.84
4-7 days
Luxembourg
£13.96
£16.80
2-3 days
Netherlands
£13.20
£15.09
2-3 days
Norway*
£48.60
£61.00
4-7 days
Poland
£12.09
£17.13
4-6 days
Portugal
£14.91
£24.08
4-6 days
Romania
£21.29
£30.08
2 days
Slovakia

 

£14.33
£20.46
3-4 days
Slovenia
£14.46
£19.82
4-6 days
Spain
£15.09
£20.39
3-4 days
Sweden
£16.18
£20.45
4-6 days

Switzerland*

£44.33
£48.42
3 days
Please note: Delivery charges may be subject to change
Payment & Security
Your payment information is processed securely. We do not store credit card details nor have access to your credit card information.